As of the moment I'm not able to post a picture of the prizes for this giveaway (the host doesn't include a picture that's why) so let me just share this badge to you and introduce to you the host of this giveaway so this blog post will be meaningful and won't waste your precious time.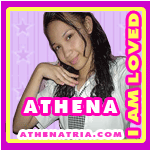 This is Athena Jeunnesse Mae Tria (please help me with the pronunciation of "Jeunnesse", haha). She and her daughter are going to celebrate their birthday soon (now you know why the title said "Double Birthday"). So before anything else, I would like to greet both of them a *throws confetti*
Okay, we're done greeting her and her daughter so let's proceed with the giveaway. Again, my apologies if this blog post doesn't have any picture of the prizes but don't worry I'll just list down the items that one lucky winner will get, ready?
The prizes includes the following items:
So there you have it, this giveaway will end on May 31, 2012 but I'm not sure if its open internationally. Better ask Ms. Athena if you're interested. Visit the
giveaway page
for more information about the giveaway and if you're interested to join. Good luck! xoxo